Mart Museum of Modern and Contemporary Art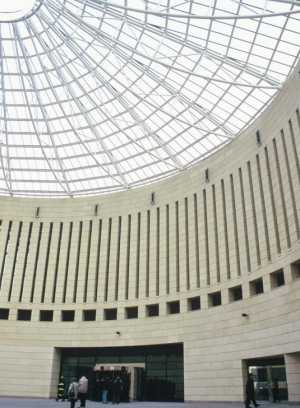 The Mart, Museum of modern and contemporary Art of Rovereto and Trento, opens to the public the new center of Rovereto, joins to those of Palace Albere (Tn) and the "Casa Museo Depero" in Rovereto. The new structure rises in one of the most elegant streets of the city, Corso Bettini, that shows buildings of the 1700's, the two Alberti palaces between which the Mart is build, the Teatro Zandonai, the Palazzo dell'istruzione.
The Mart opens to the public with a very rich collection: from the Futurismo to the POP Art, the Poor Art and the Realism. Particularly interesting the presence of artists like Balla, Depero and Parmpolini, De Chirico, Campigli, Morandi and Savinio.
The project, begun in 1987-88, is designed by the Swiss architect Mario Botta, with the collaboration of the engineer Giulio Andreolli. Mario Botta has also designed the Museum of Modern Art in San Francisco, the Museum Tinguely of Basel, the Center Friedrich Dürrenmatt di Neuchâtel.
The museum is developed on 12000 square meters of which 6000 dedicated to the exposures. The building is articulated on four levels. The reception, the bookshop, a conference hall, the cafeteria.
Some of the 3000 works of Fortunato Depero, donated from the artist to the city of Rovereto and today entrusted to the Mart, constitute one of the body of greater interest of the museum. Others futurist exponents as Balla, Prampolini, Thayhat, Di Bosso, Dottori, Fillia, Iras Baldassari, Marinetti, and Crali completes the collection dedicated to the Futurism.
The italian '900, is represented with works of particular value like those of the Giovanardi collection, with masterpieces of Campigli, Licini, Sironi, Carrà, de Pisis and Morandi.
Others important artists lile Severini, de Chirico, Savinio, Casorati, Tosi, Tozzi Funi, Mafai, the abstract art of Melotti, Fontana da Burri, Licini.
Works of international artist like Picasso, Lèger, Klee, Kandinsky, Lichtenstein, Modigliani, Warhol, Beuys are also in the MART collection.
Rovereto
Rovereto is a city with a great cultural importance, not only because here born a part of the Italian Futurismo and the architectonic rationalism, but also for the cultural role that assumed during the Austro-hungarian domination. Rovereto boasts one library founded in 1764, with 370000 books.